Nearly 1,200 Chinese Companies Caught Falsifying Financials in 2018
The National Statistics Bureau reported that 1,195 companies and 2,775 investment projects inflated their earnings or covered losses in the first four months this year.
Jun 21, 2018 11:53 AM PT
The National Statistics Bureau of China, an agency of the State Council of the People's Republic, has found that 1,195 companies and 2,775 investment projects falsified their books by overstating their earnings or hiding losses.
At a time when Beijing is attempting to control debt risks and ensure transparency in its financial system, the figures illuminate an unsettling issue: the possibility of endemic cheating among Chinese businesses.
The statistics, circulating this week on Chinese media, showed that the National Statistics Bureau verified the financials of 2,051 enterprises and 2,942 investment projects between January and April this year. Altogether, nearly 80 percent of the scrutinized records were found to contain falsities.
"Currently there is still periodic data fabrication in some areas, which violates statistical laws and regulations, goes against the party's ideological path and breaches its disciplinary bottom line," Jizhe Ning, head of the Bureau, said in a statement Thursday.

The issue came to light at the Third Session of the Standing Committee of the 13th National People's Congress on Wednesday. The vice chairman of the committee, Dongming Wang, said that in the previous year, statistics agencies had registered and investigated 7,479 cases of violations and executed 5,961 administrative and 162 disciplinary punishments.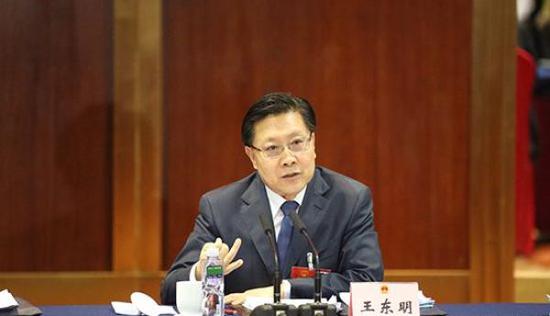 Dongming Wang, the vice chairman of the Standing Committee of the 13th National People's Congress speaks at the Third Session June 20. (Source: Caixin)

"Some cadres have a weak awareness of the rule of law," Wang said at the session. "The government warned these individuals multiple times against manipulating data and falsifying earnings, but they continued this practice."
In addition, local statistics agencies, which are charged with ensuring the accuracy of companies' books, were also found to err in their audits. Wang said certain agencies lost data, duplicated reports, and inflated financial figures to fulfill projected estimates, snowballing into years of false accounting.
In its report, Congress blamed widespread data fabrication on local officials who pressured statistics departments to raise figures for higher GDP growth, a key measure of the officials' performance, according to Caixin news agency.
As a result of financial fraud, earlier this year, Tianjin's Binhai New District, where the Lingang Economic Zone is located, adjusted its 2016 regional GDP to 665.4 billion yuan ($102.8 billion), from previously reported 1,000.2 billion yuan, as reported by Caixin.
At the Third Session on Wednesday, Wang suggested that China's State Council should step up efforts to formulate measures for the administration of civil statistical investigation activities.
The accounting of Chinese firms continues to raise suspicion with U.S. investors primarily since the 2008 market crash opened up Wall Street to overseas companies. Chinese entities were repeatedly found to overstate profit and revenue, and to bypass the complex process of going public in New York by forming reverse mergers with public shell companies.
A 2017 documentary, The China Hustle, highlighted ongoing schemes by businesses, banks, auditors, and lawyers in both the U.S. and China in their hunt for short-term financial gains that eventually lead to long-term economic damage.
The China Hustle, a 2017 documentary unveiling financial fraud by Chinese companies listed on Wall Street

Questions about the accuracy of accounting and finances continue to make news.
Most recently, TAL Education Group (NYSE: TAL) was targetted by noted short-seller, Muddy Waters Capital LLC, which published a report alleging the company has been "fraudulently overstating" its profits for at least the past two years and had falsified a number of business transfers. The company, which provides K-12 after-school tutoring, responded saying the report contained "numerous errors, unsupported speculation and malicious interpretations of events."